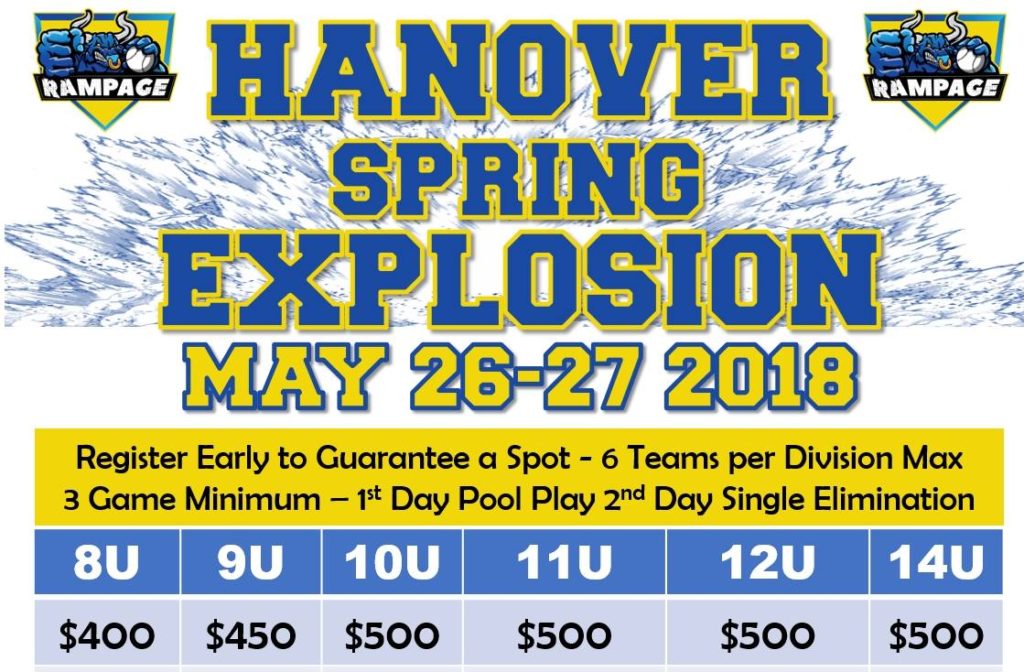 We are pleased to announce our 4th Annual Hanover Spring Explosion Tournament hosted by Hanover Rampage. Our tournament will take place May 26th and 27th in Hanover, PA. Field locations will vary by age group.
All field locations will have food vendors and refreshments. Complete list of food vendors and local accommodations will be sent to all head coaches prior to the tournament.
Your spot will not be guaranteed until payment has been received. Only 6 teams maximum per age group. Have any questions? Feel free to email us at rampagespringexplosion@gmail.com.
Tournament Notes:
There is a 3 game minimum

8U, 9U and 10U will use Little League "Minors" tournament rules

11U and 12U will use Little League "Intermediate" tournament rules

14U will use PIAA rules

1st Day Pool Play | 2nd Day Single Elimination – All teams advance to single elimination

Trophies and Medals for 1st and 2nd Place in each division
Hanover Spring Explosion Registered/Paid Teams
| 8U | 9U | 10U | 11U | 12U | 14U |
| --- | --- | --- | --- | --- | --- |
| Hanover Rampage | Hanover Rampage | Hanover Rampage | Hanover Rampage | Hanover Rampage | Hanover Rampage |
| | GoWags Regulators | | | Hampden Hammerheads | |
| | Upper Allen Wildcats | | | | |
| | Big Spring Bulldogs | | | | |
| | | | | | |
| | | | | | |